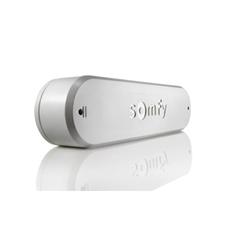 Ref: 9016355
EOLIS 3D WIREFREE io
The most sold radio wind sensor for awnings
The most sold radio wind sensor for awnings. Intelligent sensor: Adapts its behavior in case of windy days.
Prednosti
Protection efficiency
- Better protection secure awning from wind
- Measures the wind impact on the awning for even greater efficiency instead of the wind speed

In harmony with your awning
- Slim design to fit on the load bar (discrete integration), no cabling
- Available in 3 finishes: white, black, and beige
Pojedinosti i specifikacije
Wind detection in 3 dimensions
- Efficient measurement of wind impact on awning structure with detection of horizontal, vertical and lateral oscillations.

Failure Alert
- Each hour, automatic retraction of the awning in case of sensor functional problem.

Auto save function
Avoid any accidental retraction of the awning when replacing batteries

Failure Security
- Deactivate comfort orders (ie: by Sun Sensors) if the wind sensor is not functioning.

Intuitive programming
- Simply shake the awning to record sensibility threshold.

Intelligent sensor
- Recalls last information to adapt its behavior in case of windy days (anti yo-yo effect).
Duljina : 153 mm
Širina : 38 mm
Dubina : 25 mm
Technical characteristics
| | |
| --- | --- |
| Radio frekvencija | 868,95 MHz |
| Nominalni napon/Frekvencija | 2 x 1,5 V – 5 years life time batteries |
| Faktor zaštite | IP 44 |