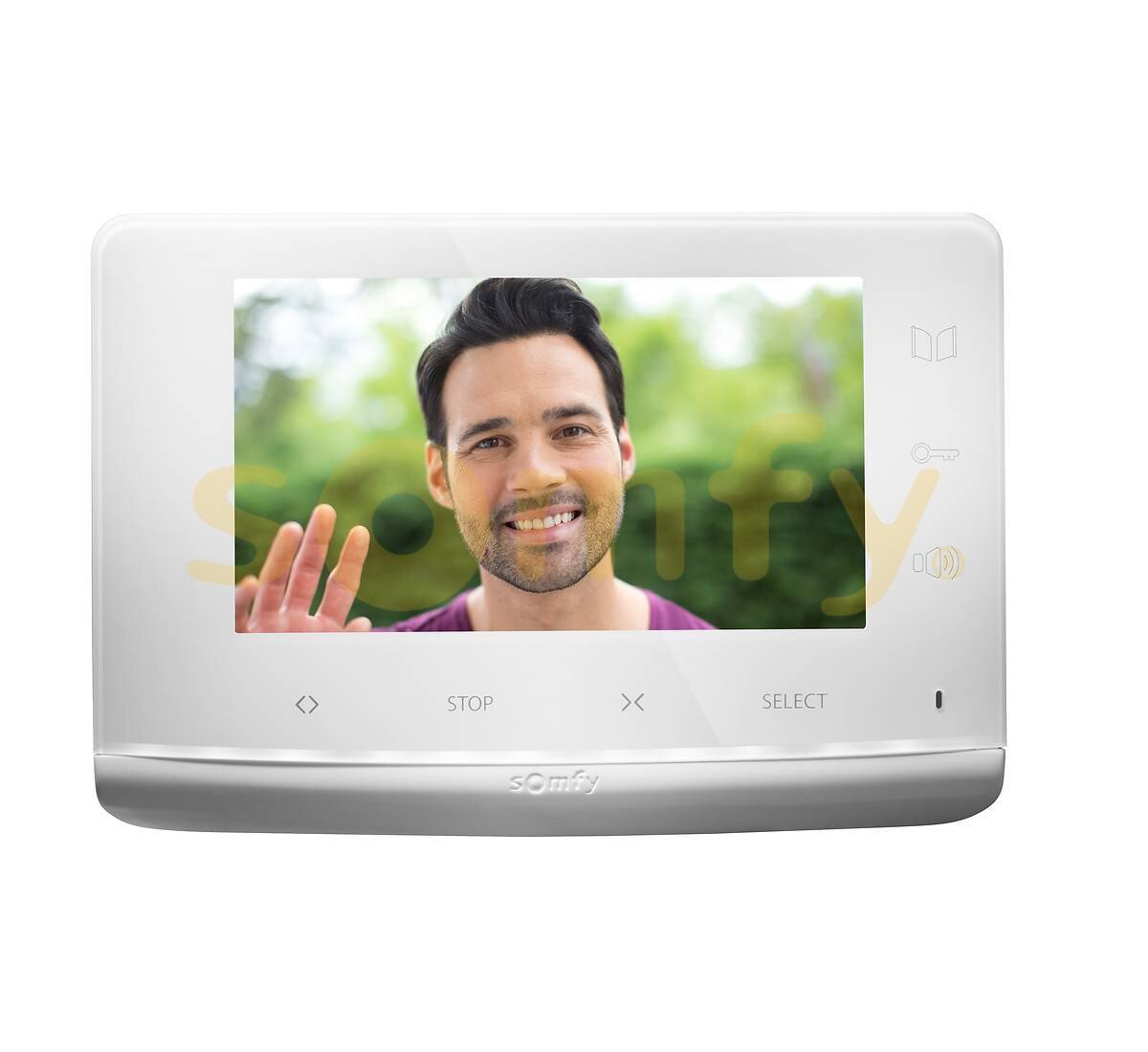 Ref: 2401547
V300 Hands-free video doorphone

The adaptable video door phone dedicated to 1 or 2 dwellings!

Pojedinosti i specifikacije
Opis
Take advantage of the V300 video door phone to control your access and to drive your SOMFY RTS equipment!
Integrate your monitor in every entrance through to the sleek and modern monitor's design allow to embellish ypour home.
Thanks to a multi-dwelling function, you easily equip your home in 1 or 2 dwelling configuration by call station's reversible button.
Communicate and identify your visitors during day and night with the wide-angle camera (H95 ° / V67 °).
Enjoy of the small call station design, which adapts of any pillar types from the widest to the narrowest.
View the history visits in monitor's image memory (up to 100 images) and identify missed visitors during the day.
Its sensitive touch-screen display offers a pleasant use of everyday life.
Add a second monitor and enjoy of 2 connected monitors, to respond at your visitors anywhere in your home.
The monitor has an integrated SOMFY remote control to drive up to 5 Somfy RTS products or groups of products (shutters, lighting, garage door, etc.) through to a LED's remote control.
From your home, you can open your portal and close your shutters directly from the monitor interface.
Prednosti
Using & Comfort
Take benefit of V300 interface and explore multi-possibilities of product settings (date/hour, colors, contrast, ringtones...)
Integrate your monitor everywhere thanks to the sleek and elegant design
Open Gate/Door or electrical lock from your home
Easily control of your Somfy equipment via RTS remote control
Security
Identify your visitors thanks to a wide angle camera integrated in your call station
Recognize your visitor in the dark without dazzling via IR LED
Discover the historic of your missed calls during the day thanks to monitor's image memory (100 pictures)
Easy to install
Connect the external unit via 2 wires only (up to 100 m) : existing doorbell cables can be used
Install the thin call station on any pilars dimensions
Benefit from 1 or 2 dwellings possibilities with reversible's call station button
Technical characteristics
Radio frekvencija : 433,42 MHz
Domet na otvorenom prostoru : 200 meters
Kapacitet memorije : 5
Nominalni napon/Frekvencija : 240
Boja/finiširanje : White
Dimenzija i težina
Širina : 225 mm
Visina : 155 mm
Dubina : 20 mm
Pack content
1 Indoor monitor
1 Monitor mounting bracket
1 Monitor power plug
1 Door station
1 Rain shield
Screws + plug for mounting the monitor and foor station
1 Torx key
2 Name tags