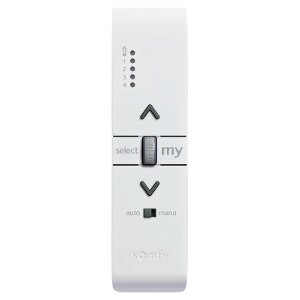 Ref: 1811337
Remote control for individual or group management with variation

Situo Variation io 5 channels is a remote control for individual or group management of your equipment with a scroll wheel for tilting the slats of your venetian blinds or dimming your lights.

Pojedinosti i specifikacije
Opis
Variation: Situo Variation io 5 is designed to drive tilting or diming io applications; use the scroll wheel for tilting or dimming your slats' or lights' applications
Single use: Up, down, Stop, "my" function
Multiple: 1 and up to 5 channels for individual or centralized control of your motorized devices
Personal: memorize your favorite position of the application with the « my » function and find it instantly by pressing « my » button
Practical: low battery indicator
Control: The Auto/Manu button allows isolating the receiver from all other controls that can drive the applications (with manual or automatic orders)
Sustainable: designed in accordance with the Act For Green criteria
Available in two definitions:
Pure: contemporary minimalism
Titan: subtlety with technology
Prednosti
Easy to use and adapt to the environment
Remote control to easily drive up to 5 applications, from anywhere in a room
The variation function allows you to precisely manage the light intensity and the slats' tilting
≪ My ≫ position is simple to program and to modify; the function memorizes the favorite position of a product and allows you to find it instantly by pressing the ≪my≫ button.
Handiness for more mobility and comfort
An elegant and discrete wall support is delivered with the remote control
Choice of attractive finishes: Pure (White&Grey) and Titane (Black&Grey)
Technical characteristics
Radio frekvencija : 868.95MHz +/- 1KHz MHz
Domet unutar kuće : 150m without obstacles
Domet na otvorenom prostoru : 150m without obstacles
Kapacitet memorije : 5
Boja/finiširanje : Grey&white/Black&grey
Faktor zaštite : IP 30
Dimenzija i težina
Duljina : 145 mm
Širina : 16 mm
Visina : 38 mm
Pack content
1 Situo 5 Variation io (including 1 CR2430 battery)
1 wall bracket
1 Thermoformed platform
1 or 2 manual guide (s) (depending on the reference)
Pronađite prodajno mjesto
Pronađite instalatera u blizini
Niste sigurni? Kontaktirajte nas. Pomoći ćemo vam pronaći najbolje rješenje za vaš projekt!
Kontaktirajte ovlaštene profesionalce u blizini koji će vam pomoći u projektu i s popravcima!